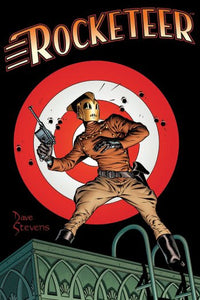 News that Disney intends to reboot The Rocketeer might have surprised many when it broke on Heat Vision this morning, but to longtime followers of the character, it's something that seems sensible, if not outright necessary. After all, more than most comic book heroes, the Rocketeer that was — 1930s pilot Cliff Secord — was personified by his creator, Dave Stevens.
The character first appeared in the back pages of Starslayer, an independently produced comic book series from Southern California's Pacific Comics in 1982, running in the second and third issues before headlining the initial two issues of Pacific Presents later that year; the second issue ended in a cliffhanger that wouldn't be resolved until 1984's The Rocketeer Special Edition, from Eclipse Comics, setting in motion an unfortunate trend for the series, and for Stevens' career in general — that of delayed publication and continual publisher switches.
Switching from Pacific to Eclipse was a purely practical move; Pacific folded ahead of the release of the final issue of the series. Eclipse would later fold, as well, but not until after it had released a collected edition of all Rocketeer material to date, complete with an introduction from Harlan Ellison. The character would go on to appear in three more comic book issues by Stevens — a series titled The Rocketeer Adventure Magazine, two issues of which were published by Comico Comics, with the third by Dark Horse Comics — before disappearing from the comic book stands for more than a decade.
The reasons for the character's absence (outside of a 1991 film adaptation of the first Disney movie, which didn't feature work by Stevens) were, sadly, simple; while Stevens didn't quit work entirely — he continued to produce illustrations for years afterwards — his already slow production rate decreased as he first returned to art school to study painting, and then was diagnosed with hairy cell leukemia. He died aged 52 in 2008.
Following Stevens' death, the Rocketeer raced back into comics — first in a 2009 collection of all previous material by Stevens, and then in a series of annual mini-series by new creators including Mark Waid, Chris Samnee, Kurt Busiek and Mike Allred, beginning with 2011's Rocketeer Adventures and continuing through last year's The Rocketeer At War, which finally let Secord take his jetpack to the front lines of the fight against the Nazis.
These new series — which featured appropriately pulp-inspired titles like Cargo of Doom and Hollywood Horror — were fun tributes to Stevens' work, and faithful in spirit to both the original comics and the source material that he himself had drawn from, but despite the best efforts of all involved, they remained just that: faithful, respectful tributes to someone else's creation, as opposed to the traditional DC or Marvel school of multiple creators continuing the adventures of a particular character.
Ultimately, the Cliff Secord Rocketeer had too much of Stevens in him to truly come to life in the same way under anyone else's control. Stevens had designed the character in his likeness, and other characters were informed by his personal interests: Betty, Cliff's girlfriend, was clearly Bettie Page — whom Stevens got to know personally in later life, helping her revival as a cult figure in the 1990s — while villains were based on old movie stars or fictional heroes as he saw fit (Both Doc Savage and the Shadow appear in Stevens' original comics, disguised so as to avoid copyright problems).
Similarly, the character's distinctive iconography was taken from Stevens' personal fascinations for retro adventure; the helmet and outfit are inspired by the Republic Pictures Rocket Man movie series of the 1940s and '50s, with additional elements borrowed from DC Entertainment's Adam Strange character and the 1920s and '30s Buck Rogers newspaper strip to create something that perfectly personifies Stevens' particular sense of design.
Even the first Disney movie, as fun as it is, lacks the unmistakable "Stevens-esque" quality of the original comic book inspiration — which was firmly the most appealing thing about them in the first place. What rebooting the series with an all-new character allows is for the same concept to be taken to new places that offer similar moments of discovery and evocations of personal passion without being tied down to what Stevens had laid down before. If done well, then the Rocketeer will once again do the one thing that Stevens had always set out to allow the character to do: soar.