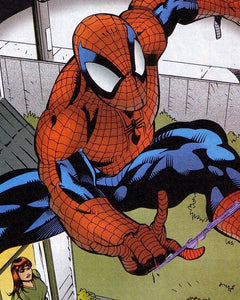 In an interview last April, Marvel Studios President Kevin Feige said that Sony Pictures' Venom and Silver & Black films would not be connected to Marvel Cinematic Universe or to their version of Spider-Man. Director Jon Watts, who will helm the wall-crawler's first MCU solo film, also insisted that Venom would not be connected to the MCU at all. However, while in an interview Filmstarts, Spider-Man:
Homecoming andVenom producer Amy Pascal said that Venom andSilver & Black would take place in the same universe asSpider-Man: Homecoming, which would mean they also take place in the MCU.
"Well, those movies will all take place in the world that we're now creating for Peter Parker," Pascal said while sitting beside Feige. "They'll all be adjuncts to it. They may be different locations, but it will still all be in the same world. They will all be connected to each other as well."
When asked if Tom Holland would appear in any of the films, Pascal responded, "There's a chance. There's always a chance. I think one of the things that Kevin has done with Marvel that's so brilliant is bringing the fans along and making each movie seem like a chapter in a book that you have to read in order to go forward, and I think the investment that the fans get to feel in being part of a larger story and understanding what's happening is something that I know Sony would want to emulate."
Silver & Black's and Venom's releases are still quite far out, so Holland appearing in those films is neither a foregone conclusion nor a certainty at this stage. However, Holland's contract only specifies six films, three of which are solo Spider-Man films.
Two of the other three movies are presumed to be the upcomingAvengers films, Avengers: Infinity War and the currently untitled Avengers 4. The actor did mention that there are options in his contract that could be exercised whenever and used a cameo in an Avengers movie as an example, so it's possible one of those options might allow him to appear in Venom or Silver & Black.
SOURCE : CBR
RELATED: Spider-Man: Homecoming: Zendaya's Character Reveal Has Been Debunked
Arriving July 7, director Jon Watts' Spider-Man: Homecoming stars Tom Holland, Michael Keaton, Zendaya, Donald Glover, Jacob Batalon, Laura Harrier, Tony Revolori, Tyne Daly, Bokeem Woodbine, Marisa Tomei and Robert Downey Jr.