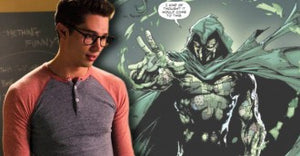 "Blindspot" alum Joe Dinicol has been cast in a recurring role as DC Comics mystical vigilante Ragman in "Arrow's" upcoming fifth season.
According to Entertainment Weekly, will debut in the second episode as Rory Regan who, fresh from a personal tragedy, hopes to discover answers in Star City. There, of course, he crosses paths with Stephen Amell's Green Arrow.
Created by writer Robert Kanigher and artist Joe Kubert, Ragman wears the mystical Suit of Souls that permits him to summon the strength and abilities of the guilty who reside within it. Introduced in 1978 in his own short-lived series, the character has popped up with some regularity over the past four decades, and served as a member of DC's Shadowpact.
Dinicol's credits also include "Grey's Anatomy," "Betas" and "Scott Pilgrim Vs. The World."
"Arrow" returns Wednesday, Oct. 5, on The CW.
Source : CBR