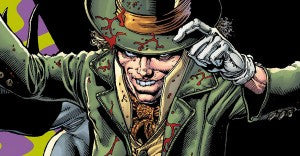 Samuel will bring the Mad Hatter to "Gotham."
"Gotham" will welcome former "Walking Dead" star Benedict Samuel as the Mad Hatter in Season 3.
According to Deadline, this version of Jervis Tetch will be
a talented hypnotist teetering on the edge of madness. He arrives in Gotham with an unwavering desire to find his sister, Alice, a young woman who went missing in the city years ago. It is anyone's guess just how far down the rabbit hole he's willing to go in order to find her.
In the comics, Tetch -- aka the Mad Hatter -- is a scientist that uses his own mind-control control technology to control the minds of his victims. Though based on a children's book character, the character is sometimes portrayed as being severely mentally ill, with an underlying darkness to him. The character, who was co-created by Bill Finger, debuted in 1949's "Batman" #49.
Executive producer John Stephens revealed to CBR that the Mad Hatter would come to "Gotham" in Season 3 as early as May. However, no one had been announced for the role at the time.
In addition to his role as The Wolf in "The Walking Dead," Samuel has appeared in "The Beautiful Lie," "The Walk," "Secret City" and more.
Source : CBR