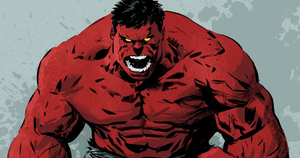 Captain America: Civil War" co-director Joe Russo says he and the other filmmakers considered using many other characters in the film, including the fan-favorite Marvel anti-hero Red Hulk. Joe Russo told ComicBook.com, "We had so many characters in that movie as it was.
We consider everything, obviously, but with so many characters in that movie as it was to try and entertain adding another character and to get to the Red Hulk, you have to add a back-story. You have to substantiate the narrative to get to that. [Thaddeus Ross], on our list of priorities, he was there sort of as the government's agenda and not to add another complicated super powered character to the mix.
" Ross, played by William Hurt, appeared in the film as the figurehead for the U.S. Military who propositioned the Sokovia Accords — the mandate that said superheroes were to register with the government. In the comic, Ross — a long time foe for The Hulk — went on to become the Red Hulk after the Bruce Banner incarnation of the character went away after "World War Hulk." Of course, Hurt's Ross never makes that transformation in "Civil War.
" As for the characters planned to appear in "Avengers: Infinity War," Russo touched on the process selecting them. "We had a board when we started this process of the movies with these Avengers characters that have ever graced the screen in a Marvel film and a list of characters that we have at our disposal that haven't graced the screen," he said. "We spent the last six to eight months crafting stories around the cornucopia of characters at our disposal so anything is possible."