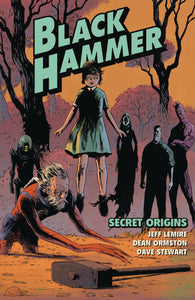 Black Hammer, the Eisner-winning series written by Jeff Lemire and artist Dean Ormston, may soon be headed to a screen near year. 
The Dark Horse comics series was optioned for a film and television deal by Legendary Entertainment, the New York Times has reported. 
"Black Hammer is my love letter to superhero comics as an indie comic," Lemire told NYT. 
Lemire will be involved in writing the adaptations for the screen. 
"With our development team, one of our big initiatives was to bring in a superhero universe," said Nick Pepper, the president of Legendary Television Studios. "We were lucky enough that this was available." 

Legendary is the studio behind movie franchises such as The Dark Knight, Pacific Rim and Jurassic World, as well as the studio behind Netflix's Lost in Space series. 
The series synopsis from Dark Horse: 
Mysteriously banished from existence by a multiversal event, the old superheroes of Spiral City now lead simple lives on a bizarre farm from which there is no escape! But as they employ all of their super abilities to free themselves from this strange purgatory, a mysterious stranger works to bring them back into action for one last adventure!
Excited that the series is headed to the big screen? 
Source : DC