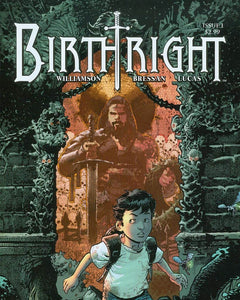 Universal Pictures and Skybound Entertainment just announced they're teaming up to bring Image's comic Birthright to the big screen.
Despicable Me writers Cinco Paul and Ken Daurio have partnered with Robert Kirkman's Skybound Entertainment to adapt the fantasy comic Birthright. The film is being developed as part of Skybound's first-look deal with Universal Pictures.
Written by Joshua Williamson and drawn by Andrei Bressan, Birthright centers on a family devastated by the disappearance of their young son. A year later, a grown man appears, claiming to be their missing child and saying he's been to another world. The series debuted in October 2014 from Skybound/Image Comics.
Birthright is a giant fantasy epic but at its core it's a story about family, and I'm really excited that a creative team who values those same storytelling elements will be adapting Birthright," Williamson said in a statement. "Andrei and I have put so much of ourselves into developing the Birthright comic and we know that Cinco, Ken and the entire Skybound team will do the same as they adapt it for the big screen."
Source: CBR