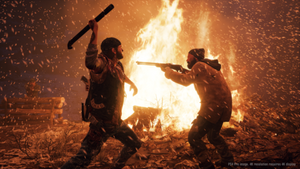 Biggest Games To Play In 2019 And Beyond: Cyberpunk 2077, Kingdom Hearts 3, More.
Hardest Part
This year has been jam packed with incredible games, but there's still so much more to come. But as the renowned singer-songwriter Tom Petty said, the waiting is the hardest part. As we've found out in trade shows throughout the year, there are still countless games that still in development. Many of the most biggest and most exciting games are due out in 2019 or later, so we're rounding them up in this feature for your reference.
In this feature you can learn more about big upcoming games, like BioWare's ambitious new multiplayer game Anthem, the zombie game Days Gone from Sony, and Ubisoft's pirate game Skull & Bones. Waiting for games you're excited about can be arduous, so we share in your pain.
Anthem, Days Gone, and Skull & Bones were each originally scheduled to launch in 2018, so they have been delayed. While that's a bit of a bummer, it's good to see the developers taking the time they need to make a better product in the end.
In the slides ahead you can find a full list of what's coming. You can also see all the latest news on a game by clicking on its name, which will take you its associated game page. In the meantime, which games are you looking forward to the most? Shout your picks in the comments below.
Anthem
Anthem is easily BioWare's most ambitious title. Focusing on the exploits of heavily armored freelancers on a hostile alien planet, you'll work together with other players online to take on dangerous missions while exploring the furthest reaches of the world. While this sounds a lot like Destiny, BioWare's approach to the concept of the shared-world shooter looks like an interesting change of pace from other games of the genre.
Platforms: PC, PS4, Xbox One | Release Date: February 22, 2019
Babylon's Fall
Babylon's Fall is the latest game by famed studio, Platinum Games. Based on the reveal trailer, the upcoming project appears to be fantasy-themed action game. You appear to play as a knight with unique magical abilities.
Platforms: PS4, PC | Release Date: TBA 2019
Battletoads
A brand-new Battletoads game has been announced. No gameplay has been shown so far, but we did learn, however, that it will have three-player couch co-op and 2.5D graphics. In addition, the art in the game appeared hand-drawn--at least according to the announcement trailer.
Platforms: Xbox One, PC (Expected) | Release Date: TBA 2019
Beyond Good and Evil 2
We saw a teaser of Ubisoft's spunky new space adventure at E3 last year. What we know now about Beyond Good & Evil 2 is that it will be a prequel to the 2003 game and that players can choose a male or female character and explore different planets.
Platforms: Xbox One, PS4, PC (Expected) | Release Date: TBA
Control
Control is the latest game by Remedy Entertainment, the studio behind Alan Wake and Quantum Break. The debut trailer showcased a strangely shifting world, with a protagonist who can fly and control objects using telekinesis.
Platforms: PS4, Xbox One, PC | Release Date: TBA

Crackdown 3
Crackdown 3 is one of Microsoft's biggest upcoming Xbox One exclusives. The game utilizes cloud-based server technology for its multiplayer mode, which allows for environmental destruction on a large scale. It retains the gameplay of its predecessors, featuring a number of different organizations controlling the city of New Providence that you'll need to take down by killing their kingpins, destroying their bases, and destabilizing their infrastructures.
Platforms: Xbox One, PC Release Date: February 2019.
Cyberpunk 2077
The next game from the creators of The Witcher, Cyberpunk 2077, is set in a dystopian, sci-fi future world. The game now appears more bright and vibrant than how it did during its initial tease a few years back. It appears to take place in a dazzling city of dreams, a metropolis of giant buildings adorned with dazzling screens, where organic skin is meshed with futuristic tech.
Platforms: PS4, Xbox One, PC (Expected) | Release Date: TBA
Daemon X Machina
Daemon X Machina is an upcoming mech action game. It's a collaboration between developers First Studio and Marvelous Entertainment, with an array of notable Japanese developers. In the game, you take your Arsenal, a fully customizable powered suit, out for an array of missions to fight the enemy at all costs. You can choose and equip your Arsenal with a multitude of weapons, obtain more from downed enemy Arsenals, and swap them on the fly to suit your strategy in the face of ever-changing threats.
Developer: Marvelous Entertainment, First Studio | Release Date: TBA 2019
Days Gone
Days Gone takes players to a post-apocalyptic open world, set in the Pacific Northwest. The action-adventure/survival-horror game puts you in the shoes of Deacon St. John, once an outlaw and now trying to survive in a devastated world. While on the road, Deacon must battle Freakers, zombie-like humans and animals that have become mindless and violent and travel in fast-moving hordes, much like the zombies in World War Z.
Platforms: PS4 | Release Date: April 26, 2019
Dead or Alive 6
Kasumi, Hayate, Helena, and plenty of other familiar faces return to the arena in Dead or Alive 6. This fighting game will continue to utilize the franchise's staple complexity when it comes to combos and counters, while upping the realism of its visuals. Two new mechanics, Fatal Rush and Break Gauge, shake up the combat by introducing an easier way for beginners to compete.
Platforms: PS4, Xbox One, PC | Release Date: February 15, 2019
Death Stranding
Metal Gear creator Hideo Kojima no longer works for Konami, but his new studio's game, Death Stranding, looks significantly weirder than that often-bizarre series. We don't know much about Death Stranding's gameplay other than it's an open-world action game. But it'll feature The Walking Dead's Norman Reedus and what appears to be a very important baby.
Platforms: PS4 | Release Date: TB
Ghost of Tsushima
Ghost of Tsushimais the latest game by developer Sucker Punch Productions, the studio responsible for Infamous and Sly Cooper. The game is set on the island of Tsushima during the Mongol invasions of Japan in 1294. You play as a lone samurai turned vengeful assassin--likely fighting to drive out the Mongol army from Japan.
Platforms: PS4 | Release Date: TBA
The Last Of Us Part II
There is a huge amount of hype for Naughty Dog's next big game, The Last of Us: Part II. One of the biggest changes for the sequel is that you play as Ellie, not Joel. We're expecting to see a lot more of the PS4 exclusive very soon.
Platforms: PS4 | Release Date: TBA
Ori and the Will of the Wisps
Xbox One console exclusive Ori and the Blind Forest was a critical hit when it launched in 2015, and now developer Moon Studios is back with a sequel. Ori and the Will of the Wisps will hopefully build on the first game's ingenious platforming and compelling story, and we can't wait to see more.
Platforms: Xbox One, PC | Release Date: TBA 2019
Rage 2
Rage 2 is perhaps the most unlikely sequel to be announced, but with id Software bringing Avalanche Studios along for the ride there's plenty of reason to be excited about its potential. Avalanche has years of experience crafting large and chaotic worlds in games like Mad Max and Just Cause, with vehicle combat and special effects chief among their notable talents. Id, of course, is the studio that pioneered first-person shooting and continues to deliver hard-hitting games like 2016's Doom. It could be a match made in heaven, but we won't know until it ships sometime in 2019.
Platforms: PS4, Xbox One, PC | Release Date: June 2019
Sea of Solitude
Sea of Solitude
 

is an upcoming EA Originals game about a lonely girl whose emotions manage to turn her into a monster and the world into a flooded post-apocalyptic world. She must explore this world in order to find a way to turn back into a human.
Platforms: PS4, Xbox One, PC (Expected) | Release Date: TBA
Source :