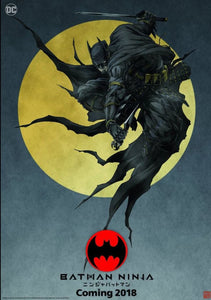 Today at New York Comic-Con, Warner Bros. Japan revealed the first official poster for its upcoming anime movie Batman Ninja.
The poster was unveiled alongside footage from the film, which was shown to those in attendance at NYCC. While the footage has not yet been released online, you can check out the poster, which offers an early glimpse at the katana-wielding Dark Knight, below:
Batman Ninja NYCC poster.
The film, which sees Batman sent back in time during medieval-era Japan, will be released sometime next year on DVD and Blu-ray.
Batman Ninja is being directed by Jumpei Mizusaki (JoJo's Bizarre Adventure) with character designs by Takashi Okazaki (Afro Samurai). Eric Garcia and Leo Chu wrote the English screenplay, which is based on a script by Kazuki Nakashima.
Source : io9