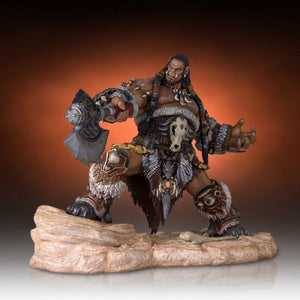 From Universal Pictures, Legendary Pictures and director Duncan Jones (Moon, Source Code) comesWarcraft, an epic adventure of world-colliding conflict based on the global phenomenon from Blizzard Entertainment. An expansive line of Gentle Giant Warcraft Movie Collectibles is going to be coming next month to celebrate the release of the film!
Like with most of the collectibles they make, Gentle Giant Ltd. is going to be using cutting edge 3D sculpting and printing to bring these intricately detailed characters to life for collectors around the world!
Here's a basic synopsis of the film if you haven't heard of it yet:
The peaceful realm of Azeroth stands on the brink of war as its human civilization faces a fearsome race of invaders: Orc Warriors fleeing their dying home to colonize another. As a portal opens to connect the two worlds, one army faces destruction and the other faces extinction. From opposing sides, two heroes are set on a collision course that will decide the fate of their family, their people and their home. So begins a spectacular saga of power and sacrifice in which war has many faces, and everyone fights for something.
And the Warcraft trailer to get you totally pumped:
Gentle Giant appears to be quite committed to making collectibles for this movie, as they have already announced 4 statues, all of which areBlizzcon 2015 Exclusives. Each of the statues were created using the digital files provided by Legendary Pictures, so you know they are screen accurate. They are hand casted, hand painted, and include a hand numbered edition size.
Lothar 1/6th Scale Statue
A hero forged in the first of war, driven by a love of king and country, LOTHAR! 
Price: $299.00
Sorce : Acton Figure  Fury...