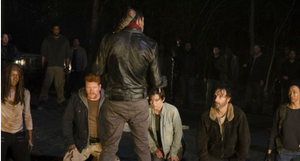 For fans of 'The Walking Dead' television show, it's been a roller-coaster ride over the past few seasons, with the show-runners proving that they are not afraid to deviate from the story lines laid out in the comic books and rivaling George RR Martin in terms of making no character safe from Death's sweet embrace.  With this much attrition, however, comes the need to refill the cast, and it appears that the "next contestant" on the screen will be coming courtesy of the comic pages.
For you readers familiar with 'The Walking Dead' in comic form, the character believed to be joining the TV cast is none other than Ezekiel.  If you're not reading the comics – well, first off, what is wrong with you?!  Second, allow us to give you some basic background on the character as he exists in the world of print.
Ezekiel is the leader of a settlement called "The Kingdom."  Unlike Terminus, Woodbury, and The Saviors' camp, however, Ezekiel governs The Kingdom and its residents fairly and without major amounts of fear and malice.  The Kingdom itself is a high school campus located in Washington, DC, that is well-fortified with a survivor-built wall to help keep walkers away.
In the comics, Ezekiel is an eccentric older gentleman, who likes to be referred to as "The King" (hence "The Kingdom") and has, of all things, a pet tiger that he's managed to keep with him since before the zombie outbreak.  In recent interviews, "The Walking Dead" creator Robert Kirkman has expressed enthusiasm for the possibility of having a live tiger on set, and writer/showrunner Scott Gimple side-stepped making a flat-out denial about the possibility of a tiger appearing next season… so keep your eyes out for a tiger in Season 7!
Added to all this is the fact that 'The Walking Dead' put out a casting call for a new character, "Augustus," who matches Ezekiel's comic-book description: an African-American in his 40s who is needed to bring a mix of "wisdom, oddity, and exuberance."  Augustus is likely a fake character name being used for cover, as been done many times in recent years with both character names and film titles.
Although no date has been officially released, the seventh season of "The Walking Dead" and its new episodes will likely premiere on AMC in October, as every past season has done.
Source: CinemaBlend