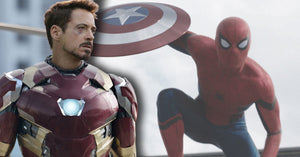 It's official: "Iron Man" star Robert Downey Jr. will reprise his role as Tony Stark for Marvel Studios and Sony's joint "Spider-Man" film. According to The Hollywood Reporter, Downey has just closed a deal to appear in "Spider-Man: Homecoming."
It is unclear at this time if Downey's deal is just for "Homecoming" or includes multiple other Marvel Cinematic Universe installments. Prior to "Homecoming," the star was signed to "Avengers: Infinity War Part 1" and "Part 2."
Robert Downey Jr. Alludes To Possible Role In Solo "Spider-Man" Film
The new "Spider-Man" film will star Tom Holland in the title role, following the character's introduction in Marvel Studios' "Captain America: Civil War," which opens on May 6. It's the latest take on the iconic Marvel Comics character which has seen two previous incarnations at Sony, first played by Tobey Maguire and then by Andrew Garfield.
According to the report, "Civil War" establishes a relationship between Holland's Spider-Man and Tony Stark, which will then lead into "Homecoming."
"Spider-Man: Homecoming's" cast continues to grow after the addition of Laura Harrier, as well as Disney Channel star Zendaya, who recently confirmed reports that she has joined the film's cast. According to the initial report, Zendaya will play a "key role" as a character named Michelle. Additionally, Tony Revolori recently joined the cast as "part of Peter Parker's high school crowd." Marisa Tomei is also on board to play Aunt May.
In February 2015, Sony and Marvel announced a deal to share live-action rights to the character, which were previously solely under Sony's control. Jon Watts is set to direct the movie, with a screenplay by John Francis Daley and Jonathan M. Goldstein.
Spider-Man is scheduled to swing back into theaters in his own feature film on July 7, 2017.