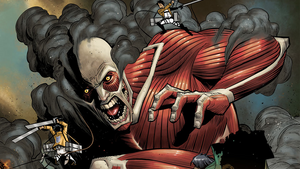 Attack on Titan Antholy art by Cameron Stewart !!
The Attack on Titan manga is still one of the most popular Japanese comics in the world, but this fall, a new anthology of stories set in Hajime Isayama's bleak world of human-chomping giants is coming from a team of western creators—not as a manga, but an American-style comic—and there are some huge names taking part.
Kodansha Comics, the U.S. arm of the popular manga publisher Kodansha, already announced anAttack on Titan anthology at NYCC last year, but at Wondercon this weekend, they revealed a ton of new details about it, including that it's designed as a Western take on Isayama's world.
There's Going to Be an Attack on Titan Anthology Featuring Comics by Gail Simone, Scott Snyder. 
The anthology will feature a range of stories from Western writers and artists, set both in and out ofAttack on Titan's manga continuity. The stories will range from the period before the manga's first arc, to a side story taking place at Atlanta's Dragon*Con.
But it's the range of talent on the project that makes this anthology so intriguing: big names like Gail Simone, Phil Jiminez, Scott Snyder, the current Batgirl team of Cameron Stewart, Babs Tarr, and Brenden Fletcher, Evan Dorkin, Paolo Rivera, Faith writer Jody Houser, and many more are providing artwork and stories.
It'll be interesting to see. Attack on Titan's aesthetic is already wrapped up in non-Japanese styles and imagery, and Isayama himself is a proud fan of Western popular culture and its influence on his work. Plus, it's not actually the first time Western comics have given us a brief taste of Attack on Titanstorytelling.