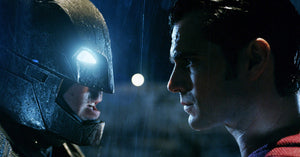 If nothing else, Ben Affleck and Henry Cavill have proven themselves to be the World's Finest at the box office.
"Batman v Superman: Dawn of Justice" raked in a historic $82 million on Friday, good for the fourth-biggest opening day of all time, according to BoxOffice.com. The figure includes the $27.7 million raked in during Thursday's advance preview night. The Zack Synder feature is on track for a $170 million weekend, despite tepid critical response.
RELATED: Snyder, "Batman v Superman" Cast Defend Film Against Negative Reviews
Barring a catastrophic drop-off, Warner Bros. looks like it will safely make back the movie's reported $250 million budget, and the studio's foray into building its own unified cinematic universe based on DC characters, and plans to set up a future "Justice League" movie, appears to be a success with fans.
REVIEW: Wonder Woman Can't Save Dull "Batman v Superman: Dawn of Justice"
"Dawn of Justice" has made waves internationally, as well, as analysts at BoxOfficeChina estimated that with a $22.3 million intake on Saturday, the movie has made $42 million there.
Check back with CBR throughout the weekend for all the latest on the "Batman v Superman: Dawn of Justice" opening.
Source : CBR