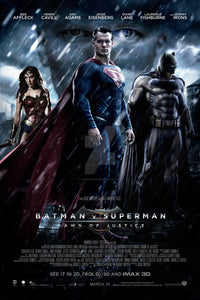 Release Date: March 25, 2016
Director: Zack Snyder
Cast: Henry Cavill, Ben Affleck, Gal Gadot, Jesse Eisenberg, Amy Adams, Laurence Fishburne, Jason Momoa, Holly Hunter, Scoot McNairy, and Jeremy Irons
What We Know So Far:
The follow-up to Man of Steelwill see Superman and Batman going toe-to-I'mtoe, as Superman's battle with General Zod resulted in very personal collateral damage for Affleck's Bruce Wayne.  
Batman has been described as grizzled, older, and more rough than we've previously seen him onscreen before, and the movie will act as a prequel of sorts to the rest of Warner Bros.' DC Movie Universe—as the title suggests.  
We already know that Cyborg (Ray Fisher), Aquaman (Jason Momoa), and Wonder Woman (Gal Gadot) make their introductions here in some capacity, and we can also expect to get our first glimpse of Ezra Miller's The Flash as well as any number of other DC superheroes within the context of the film as well.  
The film will also deal heavily with the fallout from Superman's destruction of Metropolis at the end of Man of Steel.