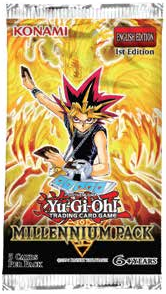 Variant Art for Cards from Original Series, Plus New Cards from TV...
Konami Digital Entertainment has announced that it will release a special Yu-Gi-Oh! TCGbooster set, Millennium Pack, on April 15.  
The 48-card set will include old favorites from the original Yu-Gi-Oh! TV show with over 20 variant art cards for such classics as Thousand Dragon, Flame Swordsman, Widespread Ruin, Kunai with Chain, and Celtic Guardian.
The set will also include highly desired cards from the TV series that have not previously been in print, including Kaiba's ultimate card-drawer, the Card of Demise, and the final version of the mightiest Egyptian God Card, The Winged Dragon of Ra – Immortal Phoenix.
The 48 card set is made up of 28 Commons, 10 Rares, 6 Super Rares, and 4 Ultra Rares.  Each 5-card pack will include a mix of revamped and new cards.
Source : Ivc2