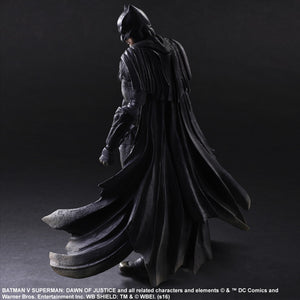 MATTEL | For even more Mattel Toy Fair reveals, the company released an hour-long video walkthrough from the event. You can watch the whole thing or skip ahead to 3:07 for "Batman v Superman," 5:52 for DC Super Hero Girls, 21:30 for Teenage Mutant Ninja Turtles Mega Bloks and 26:00 for Mega Bloks Kubros, buildable, blocky versions of characters like Hellboy, Skeletor, Spock, Minions, Master Chief and others.
MEZCO | Last week we mentioned some of Mezco's Toy Fair debuts, not long after, the company posted a recap on Facebook. Feast your eyes on the One:12 Collective versions of Space Ghost and Blip, a variety of Daredevils, Superman, Flash, Green Arrow, Captain America and Punisher! We'll keep you posted as the figures go up for pre-order.
BATMAN V SUPERMAN | Want some big time "Batman v Superman: Dawn of Justice" collectibles? Prime 1 Studio has 1000 1:2 scale versions of both title heroes. The Dark Knight actually stands taller at 43 inches while the Man of Steel measures in at 41 inches. Both feature LED spotlight functions in the base.
FUNKO | At Toy Fair we got a glimpse at so many new and upcoming Funko products that will be hitting as the year draws on. For instance, the next wave of May-shipping DC Pops will include Supergirl, Power Girl, Cyborg, Firestorm and Black Manta. At the same time the fourth series of "The Walking Dead" Mystery Minis and a new line of Pops based on the upcoming Blizzard game "Overwatch" land the same month!
BATMAN | On the topic of things we saw at Toy Fair, Sideshow Collectibles currently has the Square Enix Play Arts -KAI Bushido figure from the Batman: Timeless line up for pre-order. We first snapped pics of this toy at last year's Toy Fair, so it's cool to see it in all those wild poses and loaded up with hands, swords and other weapons! Bushido Bats ships this summer.
ICON HEROES | As much as we love collectibles, it's safe to say they don't serve much actual purpose. Icon Heroes wants to change that with the DC paperweights based on TV and video game versions of the company's characters like Flash and The Atom from the Arrowverse and Harley Quinn from "Arkham Knight." Flash and Arrow will be available everywhere while Harley is a GameStop exclusive.
GENTLE GIANT | Gentle Giant continues to build an army of Jumbo-ized versions of old school action figures. "Return of the Jedi" Luke Skywalker and Secret Wars Iron Man will both enter the fray toward the end of the year along with an animation-inspired version of Thanos who has never looked more adorable than he does here with his Death balloon.
FIGURES TOY COMPANY | Though they might seem campy to many modern viewers, the 1960s "Batman" TV series and the animated "Super Friends" series introduced legions of kids to the world of DC Comics. These days Figures Toy Company plans to reintroduce versions of those characters through toy lines based on both franchises in the retro Mego-style format. The former will add removable cowl Batman, Batgirl, Barbara Gordon and Chief O'Hara while the latter bring Wonder Woman, El Dorado, Black Vulcan and Aquaman into the gang.
MADBALLS | Last month, Mondo announced plans to bring Madballs back to life with a series of vinyl collectible releases. And now you can pre-order the first three vinyl figures making up the first series. Slobulus, Horn Head and Skull Face can all be purchased on their own or as a trio.
MASTERS OF THE UNIVERSE | In other classic franchises re-envisioned news, Super7 finally offers Masters of the Universe characters in a Kenner-esque style for more than con attendees. Previous versions were available at SDCC and NYCC, but this is the first time anyone can buy these retro takes on He-Man, Skeletor, Beast Man and Mer-Man. The figures can be pre-ordered now and will ship in April.
HARRY POTTER | Harry Potter's biggest fan will make his way into the line of screen-accurate Star Ace 1/6th scale figures in the spring. That's right, Rubeus Hagrid will hit the line as he appeared in "Harry Potter and the Sorcerer's Stone." The regular version comes with layered clothing, multiple hands, his umbrella wand, a crossbow and a light-up lamp. The deluxe features all of that as well as Fang, Hedwig and the latter's cage.
TERMINATOR GENISYS | From a story standpoint, the Terminator franchise continues to leave fans scratching their heads to an extent. But even the less-beloved entries in the series retain that great visual style. Hot Toys revealed the 1/6th scale Endoskeleton figure from last year's "Terminator: Genisys." Painted and designed to look both high-tech and weathered, the figure also features LED eyes and a massive Endorifle.
LON CHANEY SR. | Lon Chaney Sr. not only portrayed some of the scariest movie characters of the silent era, but also developed the special effects looks to help bring them to life. Quarantine Studios, Chaney Entertainment and Sideshow Collectibles have joined forces to bring Chaney fans the deluxe version of the "London After Midnight" character known as The Man in the Beaver Hat. This bug-eyed ghoul stands nearly 14 inches tall and comes with a gate environment.
Source : CBR