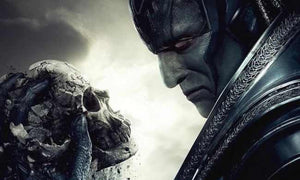 Marvel Comics will have its three core X-Men teams facing the iconic villain Apocolypse this spring, neatly timed for the release of  20th Century Fox's X-Men: Apocalypse.
The battles kick off in March with Extraordinary X-Men #8, in a story where mutants are once again an endangered species, and the last hope for salvation is lost in the time stream. Suddenly, the fate of all mutants is in the hands of one of the X-Men's most deadly adversaries.  
Uncanny X-Men 6
Then in April, Uncanny X-Menwill face the immortal mutant beginning in Issue #6. Psylocke has a bout of déjà vu when she finds a vacant, drone-like Archangel acting as the Horseman of Death. Is he once again under Apocalypse's sway? As Psylocke and her team attempt to save their teammate, they uncover a horrifying truth worse than they could imagine.
 Finally, in May All-New X-Men will face Apocalypse beginning in Issue #9.
X-Factor TP
Marvel will also be releasing three trade paperback collections featuring Apocalypse in May:
X-Factor: Genesis & Apocalypse will includeAvengers (1963) #263,Fantastic Four (1961) #286, X-Factor (1986) #1-9 and Annual #1, and material from Classic X-Men #8 and #43.X-Men: Age of Apocalypse – Twilightcollects X-Man #53-54, X-Men: Age Of Apocalypse #1-6, Exiles (2001) #60-61,What If? (1989) #77 And #81, and What If? X-Men: Age Of Apocalypse, as well as material from X-Men: Age Of Apocalypseone-shot, Hulk: Broken Worlds #2, X-Men Prime, X-Men: Endangered Species, Exiles: Days Of Then and Now and Official Handbook Of The Marvel Universe: X-Men -- Age Of Apocalypse 2005.X-Men: The Rise Of Apocalypse collectsRise of Apocalypse #1-4, Further Adventures of Cyclops & Phoenix #1-4, X-Men: Apocalypse/Dracula #1-4, Black Knight: Exodus and Fantastic Four (1961) #19.
X-Men: Apocalypse releases in theaters on May 27 (see "First 'X-Men: Apocalypse' Trailer Released").
ICV2