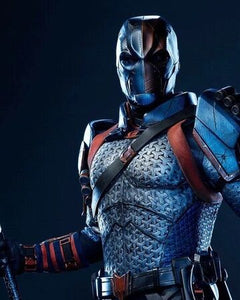 Might Deathstroke still be alive in 
Titans
 season 3, and how could he potentially make a comeback? Deathstroke played the role of arch antagonist throughout the second season of 
Titans
, and extended flashback episodes revealed the true extent of his grudge against the superhero group. While working as a mercenary, 
Deathstroke
 accidentally killed Aqualad, a member of the original Titans team. Devastated by their loss, the remaining heroes resolved to get revenge, and targeted Slade Wilson's son, Jericho, before eventually coming clean to the youngster, who they had since grown fond of. As the feud between the Titans and Deathstroke intensified, Jericho, or his body at least, was caught in the crossfire. When the Titans publicly announced their return at the beginning of season 2, Wilson came out of hiding to put them down.
This ends badly for Deathstroke when both of his children align with the Titans. From inside his father's consciousness, Jericho communicates with Dick Grayson, and the villain is eventually defeated by his daughter, Rose, who stabs him through the torso and absorbs Jericho into her own body. Grayson, now going under the mantle of Nightwing, declares Wilson dead. Deathstroke was a highly-praised addition to the Titans roster and was comfortably the most interesting, formidable foe in the entire series, attracting favorable comparisons to the Arrowverse's interpretation of the same character. As such, it's strange that Titans would definitively kill off a figure that courted such a positive response, especially compared to season 1's Trigon.
Fortunately, Slade's death isn't quite as definitive as it seemed. After taking a sword through his body and being pronounced deceased by Dick, Slade is left on the ground which, for a character with an accelerated healing factor, isn't exactly a conclusive ending. Slade's survival largely hinges on how good his regeneration ability truly is. When the villain first reemerges in Titans season 2, it's clear that his powers are stuttering, and he obviously never recovers the loss of his right eye, but Rose demonstrates the potential of her father's powers when she stabs a hole through her hand and watches it heal. It's impossible to rule out Deathstroke's artificial healing patching up the new gap in his chest, at least enough for him to survive, although the ability might need kick-starting by a rich and powerful scientist with an equally big score to settle with the Titans... Lex Luthor perhaps?