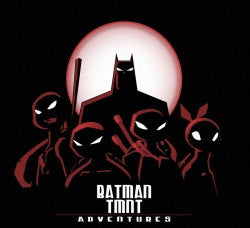 Arising from a question as old as comics -- "Who would win in a fight between Superman and Thor?" -- intercompany crossovers hold a special place in the hearts of fandom, and have created some truly memorable battles and team-ups. After hitting their heyday in the 1990s and reaching possibly their apex in 2004 with "JLA/Avengers," though, the heroic mash-ups grew more and more infrequent as the 21st century progressed. But DC Comics has taken up the banner once more, with recent hits like "Star Trek/Green Lantern" and "Batman/Teenage Mutant Ninja Turtles" -- both of which had sequels announced at Comic-Con International in San Diego -- as well as the current "Gotham Academy/Lumberjanes" and the forthcoming "Thundercats/He-Man." Celebrating the new era at a Saturday morning panel are DC All Access' Jason Inman moderating, the "Thundercats/He-Man" writing team of Rob David and Lloyd Goldfine, editors Jim Chadwick and Hank Kanalz, "Gotham Academy/Lumberjanes" writer Chynna Clugston-Flores, "Batman '66 Meets Steed and Mrs. Peel" writer Steve Orlando, "Batman/TMNT" team of James Tynion IV and Freddie Williams and BOOM! Studios' Dafna Pleban, who edits the "Gotham Academy/Lumberjanes" book.
"Every day, even now, when people bring up that book and ask for it to get signed, it's insane that it exists and insane that we got to do it," Tynion said of the "Batman/TMNT" crossover. "It's one of the most fun things I've done in my entire career."
Williams said both Batman and the Turtles "are very malleable, they've been successful with very different art styles." "What I was harkening back to was the Eastman/Laird style, there was a lot of grey or grey tones," he said, which "applies to both franchises very well."
Tynion said he enjoyed turning all of the Arkham villains into Turtles-style mutants, including polar bear Mr Freeze and cobra Joker. "It's one of the most insane things I've ever done in a comic book, and it could really only happen in this comic book," Tynion said. Another favorite scene is Batman revealing his origin to Raphael in Crime Alley.
The animated-style "Batman/TMNT Adventures" written by Matt Manning and art by Jon Sommariva will be handled by IDW, Chadwick explained, with DC approval, trading off the process for the first series.
Kanalz said "there's been a resurgence of interest in 'Batman: The Animated Series,' so it's great to cross them over."
Next Chadwick spoke about the "Star Trek/Green Lantern" sequel written by Mike Johnson and Angel Hernandez. "This is a direct sequel of the previous series," Chadwick said, noting that "anybody who died is still dead." "The Lanterns are still not in their own universe, and they've basically joined Starfleet."
"In the first series there was a major character [Johnson] wanted to kill off, and we said no," Chadwick said, suggesting this character may meet his or her fate in the forthcoming series.
On "Batman '66," Chadwick said, "I've never worked on a series that has more people wanting to work on it. I'm getting pitches from everybody." The crossover with Steed and Mrs. Peel came from a meeting with BOOM! Studios head Ross Richie. "Just so Peel gets to meet Catwoman, let's do it."
David, Goldfine, and Williams then talked about the "He-Man/Thundercats" miniseries debuting in October. "There's so many similarities, but there are also some important differences," David said, giving the story "emotional cores" to explore.
"We really are going for the classic versions of these shows," David said. "Let's take the nostalgia and run with it.
"Both He-Man and Thundercats were integral to who I am," Williams said. "They were kind of an auto-gift when I was growing up, so in my head I've been crossing them over for years." He added that he used many of the same techniques for the art style as his work on "Batman/TMNT."
Chadwick said that, after the "Star Trek/Green Lantern" book with IDW, Williams blind-emailed him with Turtles samples in case a crossover ever happened. "He didn't even know we were already talking about "Batman/Turtles,'" Chadwick said. But seeing the samples, the editor said, "That was easy, I've got my guy."
Clugston-Flores was up next to discuss "Lumberjanes/Gotham Academy." "They actually really do go together really well," she said.
"You have such a large cast, as well," Pleban said. "It's like 'Game of Thrones, man, you can lose a character so easily." She said that the editors want to keep track of each character to "make sure everybody gets a cool moment."
"I had to tone [Pom] down a little bit, I have a tendency to make people a little too sarcastic in their jabs," Clugsten-Flores said.
Orlando spoke next about "Batman: Night of the Monster Men," a crossover running through the core Batman books beginning in September. "This is the Batman movie Guillermo del Toro would love to direct. It's got kaiju Toho monsters that are adorable but also kind of revolting," he said, adding that one is "kind of a cute baby but kind of made of puss." The crossover is co-written with Tom King, and Riley Rossmo is the primary artist and designer for the monsters.
"I will say there's a Batman and Clayface team up that no one's ever seen before, and it's my favorite thing in the book," Orlando said.
Kanalz said "we've finalized a deal for something really, really, really cool that we'll be announcing probably sometime in the next month -- when you see it you'll know that's what I'm talking about."
Source :  CBR