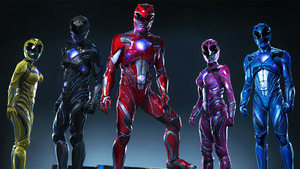 The kick-flips and "morphin time!" talk may remain the same, but when it comes to the look of the "Power Rangers," things have definitely been updated for the new Lionsgate film.
Today the studio revealed a first look at the uniforms for the teen superhero team for director Dean Israelite's reinvention of the beloved kids franchise via Entertainment Weekly.
Described by the magazine as "translucent extraterrestrial armor that crystallizes around their bodies," the new suits come courtesy of the film's production designer Andrew Menzies who said, "It's tricky finding a new language for a superhero costume...Ours is an alien costume that grows on them, that's not man-made. You can't win everyone over, but we are trying to appeal to a more mature audience and gain new fans."
Meanwhile, director Dean Israelite explained, "The show was about kids coming of age, about metamorphosis. These suits needed to feel like they were catalyzed by these kids and their energy, their spirit." And Yellow Ranger actress Becky G enthused, "It's the coolest costume ever. I'm gonna wear it for Halloween for, like, five years."
Also starring Elizabeth Banks as Rita Repulsa, Ludi Lin as Black Ranger Zack, Dacre Montgomery as Red Ranger Jason, Naomi Scott as Pink Ranger Kimberly, and RJ Cyler as Blue Ranger Billy, "Power Rangers" opens on March 24, 2017.
Source : CBR